Product update
Over the last few months, our dev team has been beavering away to make CaptionHub better than ever:
Bulk actions
Transcribing 100 videos in Spanish? Then translating those into Arabic? The Bulk Actions function will save you hours, allowing you to transcribe, translate, tag, publish and move multiple videos at the same time. Available now if you have an Enterprise subscription.
Bulk upload
Lots of content? Now our Enterprise customers can upload lots of videos at the same time. Just drag them onto the Upload window. Easy!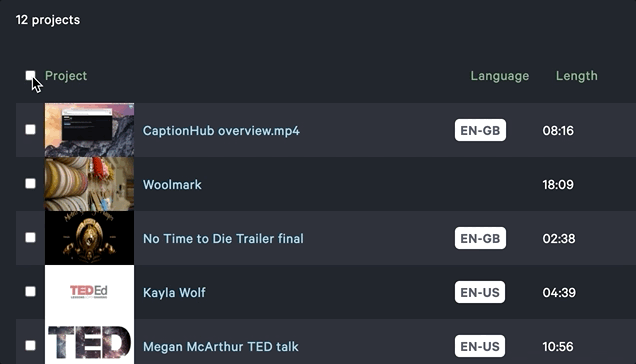 Adjustable playback speed
You already know about CaptionHub's zoom feature on the Audio Waveform. Now you can alter the playback speed as well, and adjust on the fly with new keyboard shortcuts.

Comments on original captions
Whilst this feature has always been available on our Translations Editor, lots of users requested the same comment functionality for the original language captions. So we added it. 
Activity report tags
One to make your accounts a bit easier: now you can include project tags as part of your Chargeable Activity Report.   
Edit Metadata
This can now be found in the edit page UI, so no more searching in the Settings.
Speechmatics' Enhanced Transcription model
We want to make sure you have the best AI voice recognition possible for your projects, so our Enterprise customers now have access to the most advanced speech models around.
Tag-based ingest for Brightcove
Brightcove users can now tag their videos inside of Brightcove, and have CaptionHub automatically import them. Combined with our Dynamic Ingest feature, this opens up a world of possibilities for automating you subtitling process.